Is your organization feeling stale?  Do you have data, but do not know how to leverage it?  Do you need more data, either from your team or external sources?  Does your team lack efficiency?  If you have answered "yes" to any of these, then you should check out the Microsoft Power Platform.  It is a cloud-based platform, which combines app building, process flowing and business intelligence all in one user-friendly platform!  Most of it requires little to no code, but a Developer can help extend the functionality. Below is a break-down of the 3 power services under the "Power Apps" name:
Canvas Apps
Power users can design apps without code, using an intuitive drag-and-drop interface. They can connect to data from several Microsoft or non-Microsoft applications such as Dynamics 365 and CRM for Distribution, Office 365, SQL Server, SharePoint, Excel, Salesforce, Twitter and much more. Developers can build your own custom connectors, providing almost limitless data sources. Users can access the apps on their phones or tablets by installing the Power Apps Mobile app.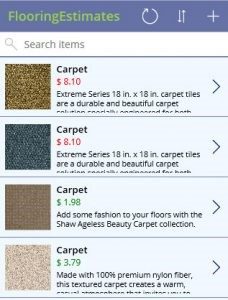 Model-driven Apps
Model-driven apps have less design flexibility than Canvas apps, as the layout is determined based on the components you add to it, such as dashboards, charts, and views. You model the app using the Microsoft Dataverse (formerly the Common Data Service) with your business data and processes.  The processes act as a guide to help your end users navigate through your defined business procedures.
Check out this blog for more information on the differences between these two types of apps.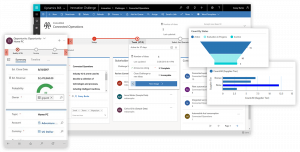 Power Automate
Formerly known as Microsoft Flow, Power Automate allows power users to build workflows, without code, that integrate a diverse set of apps and services, including Dynamics 365 and CRM for Distribution, SharePoint, SQL Server, SalesForce, Act!, Twitter, MailChimp and many more! Each workflow can have one trigger, such as an incoming email or tweet, and one or many actions, such as creating a Lead in your application of choice and sending a text message to a user.
Power BI
Power BI allows your team and executives to discover realities with your data by building rich, interactive dashboards, even if your data is stored in several applications and systems.  Data sources can include Dynamics 365 and CRM for Distribution, Active Directory, Facebook, Salesforce, Excel, Access and much more!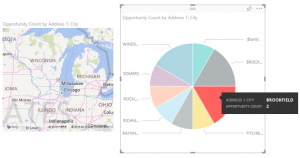 If you are a Dynamics 365 subscriber (with or without CRM for Distribution), you already have access to some of this cloud power, but a Dynamics 365 subscription is not required to use the platform.
Contact us today to find out more about how Beringer can help you explore the possibilities of Microsoft Power Platform.
Beringer Technology Group, a leading Microsoft Gold Certified Partner specializing in Microsoft Dynamics 365 and CRM for Distribution, also provides expert Managed IT Services, Backup and Disaster Recovery, Cloud Based Computing, Email Security Implementation and Training,  Unified Communication Solutions, and Cybersecurity Risk Assessment.