Many people still use Microsoft Excel today, and for good reason. It is a well-established spreadsheet program that has powerful features for calculating complex data and much more. What it lacks though is enhanced security for sharing, change tracking (unless you are using it in SharePoint),  and inability to track historical performance numbers or activities. So how do we get around that? Well, one solution is to integrate it with another application that has all of those capabilities - such as Dynamics 365 and CRM for Distribution.
Dynamics 365 has built in Excel tools
Dynamics 365 with CRM for Distribution already has some pretty cool built in Excel features such as on-demand basic importing and creation of templates. However, its import utility lacks features for complex data. Furthermore, it does not have a pre-built way of automating an integration between your ongoing Excel workbook repositories and Dynamics 365 with CRM for Distribution. For example, many organizations today still take advantage of Excel to capture key financials for their ongoing operations, simply because of its ease of use of entering data and its built-in complex formulas. This may seem like a point where you should give up and move on, but there is a solution.
Build a custom integration using other available tools
Beringer has created a custom solution to integrate Excel with Dynamics 365 and CRM for Distribution using powerful cloud computing services like Azure and highly supported .NET libraries readily available to Developers in NuGet, the popular package manager for .NET developers. Your key decision makers have the flexibility to choose how the data gets pushed to Dynamics 365 and CRM for Distribution with a custom solution. After your data is in Dynamics 365 with CRM for Distribution, your power users can create drill down charts and dashboards using built in features to track performance.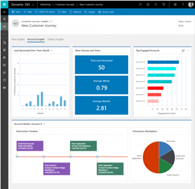 Additionally, your teammates can track their activities against the imported data, from appointment scheduling to email correspondence.
If you want to learn more about how you can integrate Excel with Dynamics 365, contact Beringer today!
Beringer Technology Group, a leading Microsoft Gold Certified Partner specializing in Microsoft Dynamics 365 and CRM for Distribution also provides expert Managed IT Services, Backup and Disaster Recovery, Cloud Based Computing, Email Security Implementation and Training,  Unified Communication Solutions, and Cybersecurity Risk Assessment.